I've got a massive backlist out there, but I'm focusing mostly on my indie releases now, which a lot of my readers haven't heard of yet. So we're going to be putting up excerpts of the indie work I've done—both full length and short collections, each Wednesday, to encourage you to give my new work a try.
Today's excerpt comes from The Silver Stag .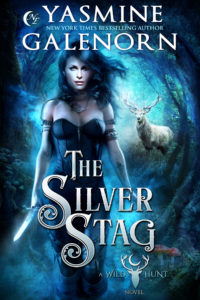 Series Page: The Wild Hunt
Book Page to find buy links: The Silver Stag
"Hello? Do you realize what time it is?"
I hadn't glanced at the Caller ID, so I wasn't sure who it was, but I didn't care. If this were any normal morning, I'd still be in bed, asleep. Most of my work was done at night and I usually slept till noon. I just happened to have a job that kept me up till dawn.
"Yes, I do realize what time it is. Did I wake you?"
Damn it. Ray Fontaine.
Ray owned a bakery called A Touch of Honey, and he made the best bread in Seattle. He also happened to be my ex-boyfriend. Or rather, we had dated a few times. I had liked him enough that I broke it off before anything happened between us. Given my track record, he was a lucky man.
"No, I'm finishing up a job. What do you need?"
I shivered, suddenly cold. I slipped my finger through the ring attached to the back of my phone so I wouldn't drop it, and scrambled to my feet. The goblin was dissolving, melting into a pile of bubbling sludge. Within half an hour he would soak into the ground as if he had never existed. At least I wouldn't have to clean up the mess. I started for the kitchen door to ask the O'Malleys for payment, then paused. Their lights were off, which meant they weren't awake yet.
Ray cleared his throat. "My shop was broken into. I thought maybe you could come take a look?"
I blinked. "Why haven't you called the cops?"
Backlist Blitz Excerpt The Silver Stag