Welcome to the cyber home of New York Times, Publishers Weekly, and USA Today bestselling author Yasmine Galenorn. Come in out of the rain, find a seat, fire up your e-reader, and relax. I write primarily urban fantasy and some paranormal romance, a smattering of paranormal mystery and fantasy. You can find all about my books here, new releases, upcoming releases, and so on. I encourage you to sign up for my newsletter to stay on top of all my new releases and for perks you can't get anywhere else–cover reveals, sneak peeks at upcoming books, and yes, serial short stories! At the bottom of this page you'll find a "WHERE DO I START" guide if you're new to my books! Most of my books do have some explicit sex and violence in them–hot vampire/shifter/god nookie! Intended for adult audience (though don't expect just erotica).
Nearly 2 Million copies of my books in circulation!
My blog is updated regularly and I do answer comments on it. So join my blog readers' community and dive into the discussions!
Author of one of Publishers Weekly's "Best Books of 2017"!
---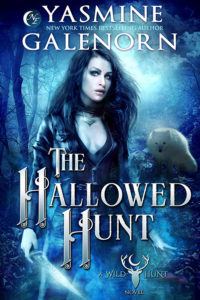 Book 5 of the Wild Hunt Series 
It's October, and with Samhain approaching, Ember must enter the Cruharach to face the darkest night of her life. As she gives herself over to the Autumn Stalkers and the Leannan Sidhe, she is plunged deep into the shadows of Annwn to face Cernunnos and the test of the Hallowed Hunt.
Meanwhile, the Wild Hunt is trying to contain collateral damage throughout the city. A Fae hate group is terrorizing Seattle, going after shifters and humans alike. In the middle of investigating the deadly cult, Herne takes on a new case.
A frantic wolf-shifter mother begs them for help. Her three-year old daughter has been kidnapped. With three other young girls already dead at the hands of a serial killer dubbed the Angel of Mercy, Herne and Ember find themselves in a desperate race to find the girl before the Angel of Mercy claims another victim and strikes again.
KINDLE  |  NOOK  |  KOBO  |  iBOOKS  |  PRINT
---
BUT I DON'T HAVE AN E-READER!
That's not a problem! If you have a computer, laptop, smart phone, or tablet, you can get free Kindle and Nook apps to read e-books! Just go to AMAZON.COM for Kindle apps, to BN.COM for Nook apps,  and to KOBO for Kobo apps! And BINGO! You have the ability to read my books!
---
Remember to check out my blog, where I answer reader questions on my blog, as well, and give you updates and other chatty news. So hop over and check it out. Also, peeps, remember I have swag available!
---
Upcoming Releases: Preorder Available!
---
Latest Releases:
---
First In Series Books (Normal Price):
First In Series Books (FREEBIES!):
First In Series Books (Try For $2.99 Each):
---
SO, WHERE DO I START READING YOUR WORK? 
I write mostly urban fantasy (UF) and paranormal romance (PNR). I DO have a huge backlist, but to get you started, I recommend you start with the following:
If you love urban fantasy: Start with THE SILVER STAG, it's the first book in my new urban fantasy series, the Wild Hunt Series. Heat level: there will probably be explicit sex as this series goes along, but it's more focused on the UF than the PNR side.
If you love paranormal romance/mystery: Start with BEWITCHING BEDLAM, the first book in my Bewitching Bedlam Series. BLOOD MUSIC is the prequel, but you can dive right into BEWITCHING BEDLAM without reading it. Heat level is hot–explicit sex, but it's not the main focus. READ THE FIRST BOOK FOR FREE!
If you love futuristic/post-apocalyptic UF/PRN, start with FURY RISING, the first book in my Fury Unbound series. There is explicit sex in this series, but again, it's not the main focus.
If you love dark, gritty, and hot, start with NIGHT MYST, the first book in my Indigo Court Series. Explicit sex and dark situations. READ THE FIRST BOOK FOR FREE! 
And, if you love cozy paranormal mysteries, you'll want to try GHOST OF A CHANCE, the first book in my Chintz 'n China series. That series is finished, and all wrapped up, with five books and a novella in it. Heat level in the series is very mild. Paranormal level is high. I call them 'cozies with teeth!'
---
And for those who have asked over and over: No, I will NOT be going back to traditional publishing any time in the near future. I am MUCH happier in indie-publishing where I can write what I want and actually make a better living. You can read me in e-format, or you can order print trade-sized copies of my full-length novels from Amazon, but no, you will not find them in stores.