Welcome to my cyber home! Come in out of the rain, find a seat, fire up your e-reader, and relax!
Wondering who I am? I'm New York Times, Publishers Weekly, and USA Today bestselling author Yasmine Galenorn, and I write urban fantasy, paranormal romance, paranormal mystery and fantasy. In the past, I wrote metaphysical nonfiction (magick, witchcraft, and tarot). You can find all about my books, my new releases, and my upcoming releases here.

While you're here, be sure to sign up for my newsletter to stay on top of all my new releases. You'll also get cookies! Well, maybe not cookies, but perks you won't find anywhere else–-early cover reveals, sneak peeks at upcoming books, and yes, serial short stories!

Wondering where to start if you're new to my books? At the bottom of this page, I've got a handy "WHERE DO I START" guide! Fair warning: most of my books do have some explicit sex and violence in them. Yes, that's right! Some hot vampire/shifter/god/witch nookie!
My blog is updated regularly and I do answer comments on it. So join my blog readers' community and dive into the discussions.
So, come prowling under the moon with me!
Author of one of Publishers Weekly's "Best Books of 2017"!
Nearly 2 Million copies of my books in circulation!
---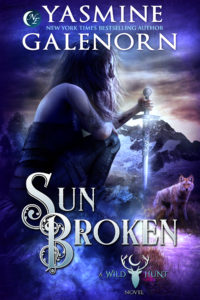 SUN BROKEN
Book 11 of the Wild Hunt Series

Life isn't easy when you bear the mark of the Silver Stag…
Typhon, the Father of Dragons, is rising, and in his wake so are throngs of the departed. Amid the fallout, a serial killer who has been possessed by Typhon emerges, targeting necromancers, psychics, and anyone who can control or deal with the dead. The deputy mayor approaches Herne and the Wild Hunt, asking for their help.
Ember and the Wild Hunt head out on the trail of the killer, only to find themselves drawn into the dark underbelly of the Vampire Nation as they try to prevent the assassin from striking again. But the killer's far more dangerous than anyone predicted, and the next target is Raven BoneTalker. Can Ember and Herne keep her safe, or will the killer slide beneath their radar and claim Raven as the next victim?
KINDLE  | NOOK  |  KOBO  |  iBOOKS  | PRINT
---
---
BIG NEWS!

So, I'm letting you in on my secret. I have signed a contract with Tantor Audio. They will be producing the first six Wild Hunt books in audio! So, yes, there will be audio books of the Wild Hunt Series! I don't have dates yet, but I'm so excited! I like Tantor and it's so thrilling that they're backing my indie work now. So keep watch for info as to when the books will be released into audio.
---
BUT I DON'T HAVE AN E-READER!
That's not a problem! If you have a computer, laptop, smart phone, or tablet, you can get free Kindle and Nook apps to read e-books! Just go to AMAZON.COM for Kindle apps, to BN.COM for Nook apps,  and to KOBO for Kobo apps! And BINGO! You have the ability to read my books!
---
UPCOMING RELEASES: PREORDER AVAILABLE!
---
LATEST RELEASES:
---
SO, WHERE DO I START READING YOUR WORK? 
I have a huge backlist, but to get you started, I recommend you start with the following:
Love urban fantasy? Start with THE SILVER STAG, it's the first book in my new urban fantasy series, the Wild Hunt Series. Heat level: hot/explicit but not the main focus..
Love dark paranormal romance/dark fantasy? Start with AUTUMN THORNS, the first book in my Whisper Hollow Series. Heat level: hot/explicit but not the main focus.
A sucker for paranormal romance? Start with BEWITCHING BEDLAM, the first book in my Bewitching Bedlam Series. BLOOD MUSIC is the prequel, but you can dive right into BEWITCHING BEDLAM without reading it. Heat level is hot–explicit sex, but it's not the main focus. 
A futuristic/post-apocalyptic UF/PRN fan? Start with FURY RISING, the first book in my Fury Unbound series. (Some explicit sex in this series). 
Dark, gritty, and hot more your style? Start with NIGHT MYST, the first book in my Indigo Court Series. Explicit, dark sex and potentially trigger situations. 
A cozy, curl up by the fireplace type? Give GHOST OF A CHANCE, a try, the first book in my Chintz 'n China series. Heat level in the series is very mild. Paranormal level is high. I call them 'cozies with teeth!' 
---