Welcome to my cyber home! Come in out of the rain, find a seat, fire up your e-reader, and relax!
Wondering who I am? I'm New York Times, Publishers Weekly, and USA Today bestselling author Yasmine Galenorn, and I write urban fantasy, paranormal romance, paranormal mystery and fantasy. In the past, I wrote metaphysical nonfiction (magick, witchcraft, and tarot). You can find all about my books, my new releases, and my upcoming releases here.

While you're here, be sure to sign up for my newsletter to stay on top of all my new releases. You'll also get cookies! Well, maybe not cookies, but perks you won't find anywhere else–-early cover reveals, sneak peeks at upcoming books, and yes, serial short stories!

Wondering where to start if you're new to my books? At the bottom of this page, I've got a handy "WHERE DO I START" guide! Fair warning: most of my books do have some explicit sex and violence in them. Yes, that's right! Some hot vampire/shifter/god/witch nookie!
My blog is updated regularly and I do answer comments on it. So join my blog readers' community and dive into the discussions
Author of one of Publishers Weekly's "Best Books of 2017"!
Nearly 2 Million copies of my books in circulation!
---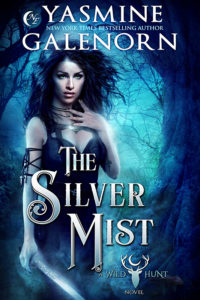 THE SILVER MIST
Book 6 of the Wild Hunt Series

The Wild Hunt is on the trail of the Tuathan Brotherhood—a hate group terrorizing humans and shifters alike. Their investigation takes them over to the Olympic Peninsula, where they plunge into the heart of the haunted old-growth forest in a desperate attempt to stop the group before they strike again.
Meanwhile, one of Herne's friends turns to the Wild Hunt. He's unwittingly unleashed a terrifying spirit who threatens Port Ludlow with the fury of her storms. Now, they must not only locate Rafé, who has vanished while undercover in the forest, but they must also appease the Cailleach before she destroys the entire community and everyone within it.
KINDLE  |  NOOK  |  KOBO  |  iBOOKS  |  PRINT
---
BUT I DON'T HAVE AN E-READER!
That's not a problem! If you have a computer, laptop, smart phone, or tablet, you can get free Kindle and Nook apps to read e-books! Just go to AMAZON.COM for Kindle apps, to BN.COM for Nook apps,  and to KOBO for Kobo apps! And BINGO! You have the ability to read my books!
---
Also, peeps, remember I have swag available!
---
Upcoming Releases: Preorder Available!
---
Latest Releases:
---
FIRST IN SERIES BOOKS:
FIRST IN SERIES BOOKS (FREE):
---
SO, WHERE DO I START READING YOUR WORK? 
I have a huge backlist, but to get you started, I recommend you start with the following:
Love urban fantasy? Start with THE SILVER STAG, it's the first book in my new urban fantasy series, the Wild Hunt Series. Heat level: hot.
A sucker for paranormal romance? Start with BEWITCHING BEDLAM, the first book in my Bewitching Bedlam Series. BLOOD MUSIC is the prequel, but you can dive right into BEWITCHING BEDLAM without reading it. Heat level is hot–explicit sex, but it's not the main focus. READ THE FIRST BOOK FOR FREE!
A futuristic/post-apocalyptic UF/PRN fan? Start with FURY RISING, the first book in my Fury Unbound series. (Explicit sex in this series). READ THE FIRST BOOK FOR FREE! 
Dark, gritty, and hot more your style? Start with NIGHT MYST, the first book in my Indigo Court Series. Explicit sex and dark situations. READ THE FIRST BOOK FOR FREE! 
A cozy, curl up by the fireplace type? Give GHOST OF A CHANCE, a try, the first book in my Chintz 'n China series. Heat level in the series is very mild. Paranormal level is high. I call them 'cozies with teeth!' READ THE FIRST BOOK FOR FREE! 
---