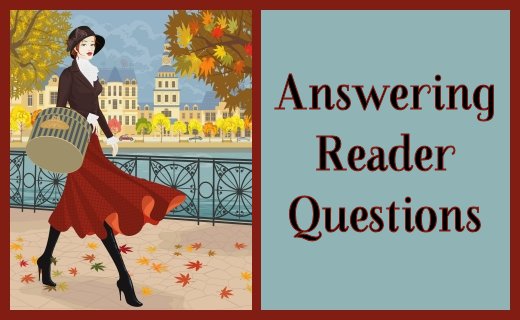 So I'm answering reader questions today. You may notice I haven't made a video in a while, and it's because I've been so busy. Also, my YouTube channel doesn't seem to be taking off much, and it's been six months, so I'm rethinking it, (mostly because of how long it takes to make the videos vs how much I'm reaching readers). I'll still be  making some, but it may not be on a weekly basis.
So to the first question today, Shannon asks if I am drawn to any particular type of cat. She's curious about my preferences.
Well, to be honest, yes. I love ALL cats, or most of them. There have been a few individual cats I haven't liked very much, but that's based on personality. And, if I'm honest, I'm not really drawn to the Sphinx cats. But I love calicoes and torties. They seem to be really drawn to me, and I'm drawn to them. I like to say they have a cattitude I adore. I've had torties and calicoes in my life since 1983. They always seem to be Mama's girls, in our household. Circe, Luna, and Caly have all been Mama's girls. And so was Tara, (she was a dilute torbie).
I'd love to have a Maine Coon  or Norwegian Forest cat someday, but because we always taken in rescues, there were never any available when we've been looking. I had a Russian blue before, a rescue, and she had the sweetest disposition and the softest fur.
As far as colors of cats, beyond calicoes and torties, it doesn't really matter. But I do love gray kitties, and I love classical tabbies (with the bull's-eye on the side). But again — black kitties are wonderful, so are white kitties, and our little red girl, Brighid, is an absolute sweetheart.
Next question comes from Laura. She asks what my current favorite tea or coffee drink is.
Since I've been able to start drinking the clean coffee (see this blog post for an explanation), I'm just grateful to have my lattes back. I'd have to say my favorite drink of all time is an iced peppermint mocha. Currently I'm using chocolate and peppermint flavored Stevia drops for flavoring. But I also have caramel, vanilla, chocolate-raspberry, and English toffee flavored drops. That gives me a wide variety of selection. Unfortunately I'm only using one shot of espresso at this point, but I add coconut milk and flavorings and ice, and it makes me happy.
So those are the questions I'm answering today. I've got a couple more focused on writing that I will be answering later on this month. I hope you have a wonderful day, and if you have questions, you can leave them in the comments below and I'll answer them on one of my blogs (or if they're simple and related to the ones I answered today, I'll answer them in the comments).
Have a Happy Wednesday!
Reader Questions: Cats and Coffee!