Hey there! I was going to record a vlog for you, and in fact, I did! But…my WebCam has apparently decided to synch my voice out of step with the picture. So it looks like a really bad B-grade dubbed movie, only instead of Gort (KLATU BARADA NIKTO—if you don't know the reference, Google is YOUR friend! ~grins~), it was me! Actually, that's a bad example. I LOVED The Day the Earth Stood Still.
So, not gonna happen tonight. You'll just have to settle for this. Sorry! (Well, listening to me drone on and on maybe not so much fun, so, whee!).
Getting down to business here.
First: WOOHOO and celebrations! I'm just very grateful that people are loving The Silver Stag so much! And thank you so much for everybody who has shared my posts about it and so forth. I am really in love with this world.  Anyway, I am absolutely thrilled with the response I'm getting on it.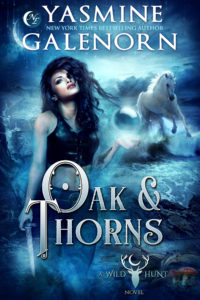 This week, I start the second book — Oak and Thorns! That's right, I'm diving right back into Ember's world this week. And in case you haven't seen it, here's the cover for the second book. It should be out in late June. And I'm planning at least eight books in the series, although I will take a break to put out a few more Fury books starting late autumn.
Harvest Song, book 20 of Otherworld, is on my editor's desk, and the preorder for the E-format edition will be available within a few weeks. There will also be an audio book from Blackstone Audio, just like with Moon Shimmers. Harvest Song will be released May 15.
If you haven't seen them yet, over on the series page for the Fury Unbound series, the Bewitching Bedlam series, and the Wild Hunt series, I've posted pictures of some of the characters. Well, pictures that inspired the characters for me, so now you can see what I envision them as looking like.
And for those of you who love the Fury series, I will be writing three more books for the second series ARC. I'm planning for the first one to be released around mid-late October.
Maddy lovers, don't worry. I'm planning more Bewitching Bedlam books, but they will be out next year at some point.
I suppose that's it for an update. I'm swamped lately, so I haven't had much time to try to vlog/blog. I'm taking a business course to increase my business savvy, and I'm doing that while writing, so I'm really busy. I'm enjoying it though, and I think it's going to be worth it.
So, that's it for now.  Have a lovely week and I'll drop you more blogs/vlogs as soon as I can!