Today's excerpt comes from The Silver Stag.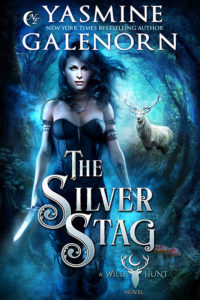 Book Series Page for series information and pics of the characters: The Wild Hunt
Book Page for Buy links: The Silver Stag
A man stood there. He was tall—at least significantly taller than I was—and with wheat colored hair that fell below the shoulder blades and the scruff of a beard. He didn't look Fae, and yet he didn't look human either. I hesitated, my hand on the doorknob, when he rang the bell again. Slowly opening the door a crack, I peeked out, ready to slam it shut at the first sign of trouble.
"Yes?"
"Ember Kearney?" His gaze met mine, and it felt like he drilled a hole right through me.
"Who wants to know?" I wasn't used to visitors, and that he was here so quickly after what had happened this afternoon made me wary.
"My name is Herne. You don't know who I am, but I know who you are, and I know you're in trouble. And I know you need my help. That's why I'm here."
He was wearing biker's leathers, and carrying a helmet in his hand. I tried to read his energy, and the strength of it blasted me back. Rubbing my head from the sudden pounding, I wasn't sure what to do. The fact is he could be Fae, although I didn't think he was. And how did he know my name and that we were in trouble?
"You'll have to do better than that. I need to know who you are and why you're here."
"I know you're protecting friends right now, and that's a good thing. But you won't be able to protect them much longer without my help. I took care of the bodies in the woods, but I couldn't find the third man."