Today's excerpt comes from Oak & Thorns.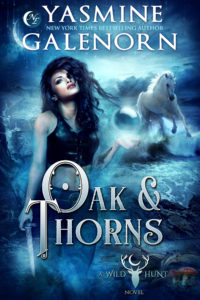 Series Page link: The Wild Hunt
Book Page for Buy links: Oak & Thorns
We finished lunch, chatting about nothing in particular.
"So how do you like living with Cooper and his family?" I asked.
"Actually, it's pretty good. It's not that I didn't love living with you," he glanced at his sister. "It's just… It feels good to be with a family again. The kids are really nice, and even though we get into arguments at times, they treat me like I'm part of the family there. And I'm learning a lot about how to control my wolf." At that, a broad smile spread across his face. "That's one nice thing — they're all wolf shifters."
"How's school?" Angel asked.
"Pretty good. There are a few bullies in the class, but it doesn't feel as scary as school did here. I'm getting straight A's." He launched into telling us about his classes, and his friends, and as he continued, his spirit seemed to rise. Finally, he asked, "Do you really think Mama would be proud of me?"
Angel and I both nodded enthusiastically.
"Mama would say you're doing just great," Angel said. "I think she'd be proud of us both. We both have made a lot of changes over the past few months, and I know it's scary, but we're doing good. Did you know the Ember's going to buy a house and I'll live there with her?"
"Will I come and live there, too?"
I glanced at him, not sensing much enthusiasm in his question.
"No, dude. Angel and I are working for a business that can be dangerous for friends and family. You do know that's why you had to go away in the first place, right? Angel didn't just arbitrarily send you to live with Cooper and his family."
DJ nodded. "Yeah, Cooper explained it to me. I guess things are better off the way they are. But I do miss you," he said to his sister.
"I miss you too, DJ. At least we get to see each other and talk to each other a lot on the phone."