Today's excerpt comes from Iron Bones.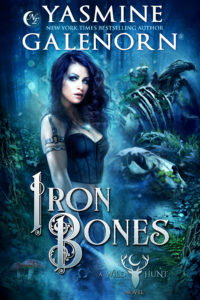 Series Page link: The Wild Hunt
Book Page for Buy links: Iron Bones
It occurred to me how chance meetings altered our lives so often. If I hadn't been searching for Angel's brother, I might not have met Herne. Except, Cernunnos had hinted that it was my destiny to join the Wild Hunt. Maybe Talia had been fated to meet Herne, as well.
"What made you choose the form you did?"
"I thought about it a lot. If I chose to look forever young and beautiful, I'd constantly be fending off unwanted advances. I wanted respect. I wanted to blend in without being too homely or too pretty. I decided that an older woman, attractive but not too much so, still active and strong…that felt right. It would give me a lot of freedom in many ways." Talia shrugged. "Herne offered me a job with him, and I accepted. Morgana gave me freedom from both my wings—which were nearly useless—and my natural shape. I had been given a second chance. A do-over, you might say."
"And you've been with the Wild Hunt since then?"
She nodded. "Yes. I've been through four human husbands, and five stepchildren. Countless dogs and cats, and once, when we were still in the UK, a horse. I doubt that I'll ever marry again, though I date. But I'm content in my own company and I love my pets, and I'm good at my job. So here I am."
I was about to comment when Herne pulled into a parking lot. I realized that Talia's story had carried us through the drive to Ginty's.
The bar was homey-looking, like a place that you'd go back to for not only drink and food, but for friendship. It was a standalone building, at the end of Way-Station Lane, off of Paradise Lake Road near Bear Creek.