I've got a massive backlist out there, but I'm focusing mostly on my indie releases now, which a lot of my readers haven't heard of yet. So we're going to be putting up excerpts of the indie work I've done—both full length and short collections, each Wednesday, to encourage you to give my new work a try.
Today's excerpt comes from Oak & Thorns.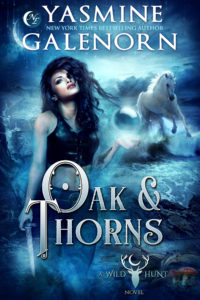 Series Page: The Wild Hunt
Book Page to find buy links: Oak & Thorns
"EMBER!" HERNE CAUGHT me as I fell.
I blinked, crying out as his arms swept around me, keeping me from cracking my head against the bathroom sink. He eased me over so I was sitting on the closed toilet seat and knelt beside me.
"Where—how…what the fucking hell?" I shook my head, trying to clear my thoughts.
"When you didn't come out, I got worried. I called but you didn't answer. So I opened the door and there was a weird mist swirling around you. Are you all right? What happened?" He helped me up, then guided me back to the bedroom where the others were waiting.
"I don't know," I whispered. "I was…" I held out my fingers. They were still blistered, all right, and they had been perfectly fine when I first walked into the bathroom.
"What's this? It looks like a burn. Is the water heater temperature set too high?"
I frantically scrambled for some clue of what had gone on. "I don't think so. I'm not sure, now."I eased myself onto the floor. The others surrounded me.
Angel rubbed my shoulder. "Tell us what happened."
I told them about the mirror fogging up and then finding myself in the forest clearing, about the triple-circle that had held me captive. I told them about the powder burns and the creature that had been heading my way.
Backlist Blitz Excerpt Oak & Thorns