Today's excerpt comes from THE SILVER MIST.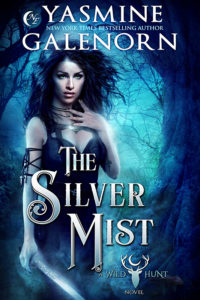 Buy links:
KINDLE | NOOK | iBOOKS | KOBO | PRINT
UK:
GERMANY:
CANADA:
FRANCE:
Excerpt:
"Yes," Ronnie said. "I visit Roxy and Rema at seven, then I'll go again at noon to take them outside, and then again at 8:00, after I've fed Mr. Rumblebutt here and played with him for awhile."
"You don't know how glad I am that Mr. R. can use a litterbox." I frowned, thinking. "Raven, what does Raj do? I mean, I know you let him out, but if you had to leave…he's intelligent enough, can he make do inside somehow?"
Raven laughed. "He's quite intelligent, but gargoyles are wired differently than we are, so we don't necessarily understand their abilities. But no, he goes outside mostly. I could train him to use the toilet, though it would be harder for him unless I bought one low to the ground, but frankly, that seems more trouble than it's worth. I have a friend come over to take care of the ferrets while I'm gone. You remember Apollo? He's an animal lover and Vixen doesn't mind if I hire his services at all."
I blushed, my mind going to all sorts of places at the word 'services.' Apollo the Golden Boy was another one of the Ante-Fae. He was gorgeous, and one hell of a sexy dancer, and he belonged to Vixen, the Mistress of Mayhem. Vixen was possessive of him, but they—Vixen was gender fluid in the most literal senses of the word—had no problems with Apollo making platonic friends.
"All right, let's eat," Angel said. "Ronnie, I made enough for you, too."
We gathered around the table and ate breakfast. By the time Angel had started the dishwasher, it was almost eight. A horn sounded from outside and I got a text from Herne, telling me it was time to get our butts out to the car.