Today's excerpt comes from THE SILVER MIST.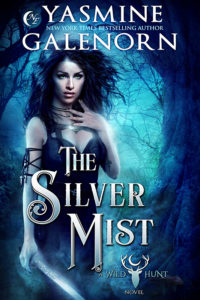 Buy links:
KINDLE | NOOK | iBOOKS | KOBO | PRINT
UK:
GERMANY:
CANADA:
FRANCE:
Excerpt:
I looked around, trying to see in the dark. Above us, the faint glimmer of dusk shown overhead, but I couldn't tell how far up the top of the pit was. Then, I remembered that Raven had fallen with me.
"Raven, Raven? Are you all right?" I reached in my pocket for the flashlight that I kept hooked on my keychain. I found my keys, and pulled them out, flipping the light switch. It was bright, an LED flashlight. The beam would last for a long time on the two lithium batteries that it required. I shined it around, looking for Raven.
A groan led me over to one side of the pit. There, Raven was trying to sit up. I flashed the light over her, looking for any signs of blood or broken limbs.
"Are you all right?" I kicked off my snowshoes and hurried over to her.
"I think I sprained my ankle," she said, groaning again as she leaned forward, trying to reach her left ankle.
"Stop. Let me look at it first." I knelt down, examining her ankle. It was hard to see beneath her leggings and boots, so I gently removed the snowshoe and was about to untie the granny boot when she shook her head.
"If it's sprained, I won't be able to get the boot on again if you take it off. For now it's acting as a compression device. We need to get out of here. I don't like the feel of this place. There's something here, though I don't know what it is."
That got me moving. If Raven was nervous, I wasn't going to sit around and question her.