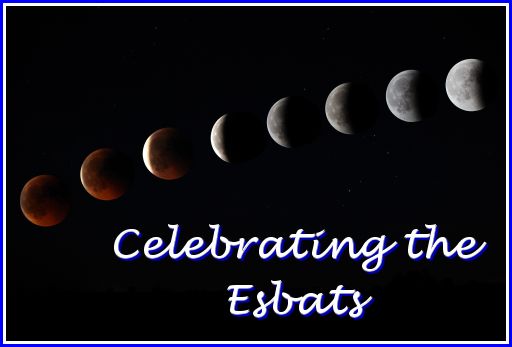 The Esbats
In the magickal world, Esbat refers to the Full and New moons, and are celebrated by a number of witches and pagans.
Moon Phases
Waxing Moon:  Waxing to Full is the time in which to cast invoking spells, in which to draw situations to you.
Full Moon:  The Full Moon is the time in which to focus on the culmination of spells cast during the Waxing phase; it provides the strongest power for invocations.
Blue Moon:  Anytime a single month has two full moons in it, the second full moon is referred to as a Blue Moon and is considered to be stronger than a regular full moon.
Waning Moon:  Waning to New is the time during which to banish and release things from your life; in which to devoke (to take apart or let go of).
New Moon:  The New Moon is the time in which to examine hidden issues; to plan for new beginnings and ferret out secrets.