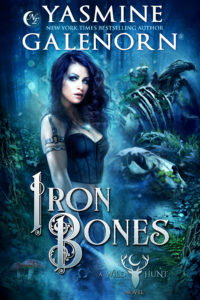 So I've been working hard lately. IRON BONES is uploaded and ready for release day. I have a summer sale coming up at the end of this week and I've been working on graphics and ads for that. And I'm writing CASTING CURSES–the 5th Maddy book. I wasn't going to write another Maddy book till next year, but they write easily and quick, and I have another project I want to do before tackling the 5th Fury book, so need the time. Unfortunately, Maddy doesn't sell as well as the others, but I do love writing her. We'll see how this one goes. I think people are thinking Maddy's a cozy and avoiding them–and TRUST ME–NOT A COZY. I don't even use that word when talking about the series because it implies no sex, and there's plenty of sex in the books. I'm ticked at my Dragon software right now though–it's crashing on me again. It goes in spurts. So I'm typing again and my hands get tired but I'm not really playing any games right now, and I'm trying to avoid surfing the net.
The heat has been kicking my ass lately. I don't like heat anyway, but it triggers histamine reactions and yeah, I've been having them. I hide in the house all day (thank gods we have AC). But even too much light can trigger a histamine dump in my system. Bleh.
I realized the other day that I've started buying more books on Kindle because I can adjust the font size and see better. My vision's not that bad but I try to avoid eyestrain because it can trigger migraines and that, I do not need. So I've actually switched over to mostly reading e-books now, and I'm okay with that.  (No rants about BUT I LOVE PRINT BOOKS, please. I love them too, and I love the smell, but I don't have much room for more physical books and it's a lot cheaper to buy e-books and the font size adjustment helps my eyesight, which helps me write books for you, so for today, we're spreading the love of e-books!
On another note, yesterday I made my corn dolly for the year and she'll be guarding the house through next year. It's a ritual/tradition for me, and I taught it to my niece, (who is close to my age, actually), and another friend came over so we had a lovely afternoon. I'll post a picture on Instagram soon!
Have a lovely Monday, and watch for my sale this week!
You can preorder the third Wild Hunt book, IRON BONES. KINDLE  |  NOOK  |  iBOOKS  | KOBO   RELEASE DATE: AUGUST 6, 2018
You can preorder the fifth Bewitching Bedlam book, CASTING CURSES. KINDLE  |  NOOK  |  KOBO  |  iBOOKS  RELEASE DATE: SEPTEMBER 17, 2018
But First, Coffee: This, That, and Other Stuff