Hey peeps!
I hope you're braving the heat. Here it's going to be very bad this weekend, especially for this area. And for me. We're supposed to be getting into the upper 90s to 100 this weekend and that's just way too hot for the area. I'm hoping, but not betting, that this might be the only superhot time we have the summer. MCAS does not like heat, and it can throw me into reaction even being exposed to higher temperatures for a few minutes.
At least we have air conditioning. I'm so grateful to my past self who decided that since I work at home, and it's miserable during the heat, we needed to have air-conditioning installed. And we just had it serviced so it's good to go for the rest of the summer. We have, however, been out of hot water for five days. The plumber will replace the water heater Wednesday (it's under warranty) so then we can actually clean things.
When I announced recently that Veil Of Stars was going to be the last wild hunt book, I really was surprised — and somewhat gratified — by how many people love the series and don't want to see it go. What I will tell you is this: I do have plans for a few more novellas and short stories in the series, so the characters won't be gone forever. And I have other plans that I've already made to where you might see some of them again, but you don't get to hear about those yet.
Now I want to say this: I did not make that decision based on people being upset. I don't write to order, and I don't write on demand. I often get people asking if I want their feedback on my books in terms of what they think I should have done and I tell them no. Absolutely not. I write my books the way they need to be written, the way my vision sees them. I don't write by democracy, and I don't ask for opinions on what I should write. But I am very grateful when my readers take my books and characters to heart, because I know I'm writing for the right audience for me. Anyway, we're not done with Ember and company just yet.
What I mentioned on YouTube but I haven't talked about here yet is that I am on an elimination diet again. We're trying to get my reactions under control, and they've been very difficult for the past months. Also my chronic pain has been high because of the inflammation from the reactions and the condition itself. MCAS is, among other things, an inflammatory disorder. So I have been narrowed down to the following foods, and I will be on this for a month to start, and only then will I even begin trying to reintroduce foods one at a time, every 4 to 5 days.
But for now until around the end of July, here's my food list: apples, cherries, blackberries, peaches, sweet potatoes, beef, chicken, turkey, Cornish game hen, duck, stevia, canned coconut milk, a certain type of margarine that I can eat, and salt. Which means I can have a couple flavors of the Zevia soft drink that is made with Stevia as a sweetener and no dyes. But I cannot have coffee at this point, and trust me, that's been a sore point.
It's an extremely limited diet and I get hungry because I'm not supposed to eat too much fruit. However, in just the few days I have been on this — not quite a week — I am already starting to notice a difference. My pain levels aren't as acute, I'm not as sore in my joints, my reactions are still around but aren't as bad of they were. However if I went out in the sun I can guarantee you that would be a different case. Anyway, I'm hoping at the end of the next four weeks I'll be feeling pretty good. In fact I'm almost afraid to add foods back in, given the difference I'm already noticing.
I have decided that if this ends up being the foundation of what I can eat, I'm just going to accept it gracefully, and work with it because my body does already feel better. And trust me, nothing tastes so good that it's worth damaging your body for. Now, if there are some little treats that I like that don't hurt me too bad, I will use them for special treats. In the same with holidays, I will potentially allow myself to eat out of the boundary zones on holidays as long as my reactions aren't overly intense.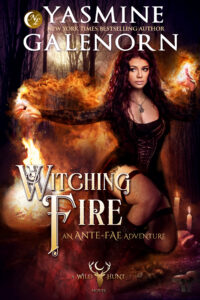 Remember to follow me on YouTube, and also remember that next week — WITCHING FIRE is releasing on Tuesday, so it will be almost a whole month early! Be sure to preorder your copy now so that you have it when it releases, and also come join my Moonstalkers Facebook group. Were going to be having a release day party in there with all sorts of fun posts and prizes. Because I really need to celebrate, and I want my readers to be as excited as I am for this book.
So, take care and talk to you later peeps.